Chocolates
In Czech Republic there are just a few producers of the "real" chocolates Beans-to-bar. You can buy the highest quality ones in our shop:

Czech chocolate (local) |

Italy chocolate |

Swiss chocolate |

Great Britain chocolate |

French chocolate
Czech chocolate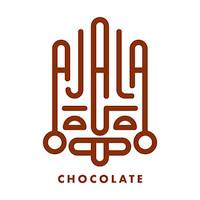 Small chocolate factory in Brno. Ajala produces bean-to-bar chocolates from cacao from Ecuador, Dominican Republic, etc. Great bars, you have to taste it. All bars are dark chocolate 73% with diffrent tastes like nuts, coffee or salt and pepper.
Jordi's Chocolate

Manufactured in Hradec Králové making chocolate since 2012. In 2015 they won the Academy of Chocolate award for milk and dark chocolate with cocoa nibs, and their white chocolate with cocoa nibs won Chocolate Awards in 2015. Their chocolates are delicious, and you can sample these bars in or shop.
Čokoládovna Troubelice

Chocolate factory in Troubelice in the Moravian region. They produce bean-to-bars chocolates from Ecuadorian Cacao. You can find their white chocolate in The chocolate taster 2015 book as one of the 15 best white chocolates in the world.
EUROPE CHOCOLATE
ITALY CHOCOLATE
AMEDEI TUSCANY

The chocolate factory who produce most exquisite chocolate from the world's best cocoa bean. A deep passion for chocolate and devotion to work, together with a continual search for perfection, have all factored into making Amedei what it is today.
In order to produce an exceptional chocolate it is necessary to closely follow the many stages involved in the manufacturing of chocolate. This is exactly what Cecilia Tessieri, founder of Amedei, courageously set out to do. Her determination to create an excellent product is what gave life to a successful, unique and innovative family business. Amedei is the only Italian chocolate boutique to have complete supervision over its production process from the cocoa bean to the finished product. Great attention to detail and desire for excellence has earned Amedei the Chocolate Academy of London's prestigious "Golden Bean" award in the "bean to bar" category for four consecutive years.
ORIGINAL BEANS

Original Beans has combined its dual passion for chocolate making and conservation, raising the bar in both areas. Chocolate that replenishes the biodiverse forests in the origins instead of harming them.Through our One Bar : One Tree program, we plant a seedling for every chocolate bar sold, protecting the habitat of local flora and fauna, empowering cacao farmers and their families, and ensuring heritage cacao trees
Thanks to these continuous reforestation efforts, as well as our energy-efficient production, green logistics and 100% bio-compostable packaging, Original Beans chocolates are CO²-positive within their own supply chain. This means that with every bar of Original Beans chocolate you enjoy, you offset the environmental impact of your consumption – and change the world's climate for the better.
GREAT BRITAIN CHOCOLATE
WILLIE´S CACAO

Willie´s Cacaco chocolates were bort of love and adventure. Owner Willie Harcourt-Cooze buys in Venezuela Hacienda El Tesoro, place where it grows best cacao. His chocolate is all about flavour. Great cacaos are like fine wines, each one with own stunningly individual flavour born of its specific genetics, soil and climate. One might taste naturly of nuts, another of summer fruits. He buys single estates cacaos direct from the farmers, roast them in antique ball roaster and make them into chocolate using just raw cane sugar and natural cocoa butter – no soya lecithin, no vanila, nothing that gets in teh way of the flavour of the bean.
CHOCOLATE AND LOVE

Chocolate and Love was founded by Richard O´Connor and Brigite Hovmand in 2010. Leaving behinde corporate jobs as a surveyor and lawyer respectively, the couple followed their passion for chocolate and desire to develop a brand they could feel good about. Sixt years later they are very happy to have a range stocked around across 35 countries worldwide. The Chocolate and Love Teams is delighted to have won Great Taste Awards for every flavour in the range. In total range has won 15 awards so far and most recently picked up 5 Great Taste Awards in 2015.
They use only the best cacao and other ingredients available to produce an organic chocolate of the finest quality. For them "organic" is not purely about process, but also about ensuring the superior taste of their chocolate.
SEED AND BEAN

Seed and Bean we believes in courageous chocolate. We spend hours in our kitchen mixing flavours from nature to transform the simplicity of a pure cocoa bean into kaleidoscopic moments of pleasure; some will be easy on the palette, some will be quite unusual, others will rocket your taste buds, but whatever takes your fancy they promise that chocolate will never be a dull experience again.
Seed and Bean are getting personal with Cocoa suppliers and growers so they can better understand the issues and controls they have.
ROCOCO CHOCOLATES

Rococo Chocolates was founded in March 1983 by Chantal Coady. Armed with a little knowledge, a dangerous passion for chocolate and a belief that there was room for a radically different approach to chocolate, she decided to open a shop in the King's Road (Chelsea, London). 26 years later and the author of three books about chocolate, she still pushes forward to boundaries of chocolate retailing with 3 shops in London – the original Kings Road store, Marylebone High Street, and a new flagship store with its own cafe, kitchen and chocolate school on Motcomb St in the heart of Belgravia.
Chantal Coady and Rococo Chocolates were awarded a special prize for 'Changing the way people think about chocolate' at the Academy of Chocolate Awards 2008.
SWISS CHOCOLATE
BESCHLE CHOCOLATES

Beschle is very proud of its 116-year-old history, which includes four generations of the Beschle Family. Ernst Beschle, the company founder and inventor of the famous Beschle Ring, Willy Beschle, the inventor of the St. Hônoré and Thomas Beschle, who set new Standards in the salty as well as sweet assortment. Today the company, still headquartered in Basel, is run by the 4th generation. All generations have produced their respective part of specialities which are still freshly made every day.
STELLA BERNRAIN

As an imaginative Swiss chocolate producer that also excels in realising its concepts, Chocolat Stella Bernrain draws on a wealth of creative ideas to produce high-quality chocolate specialities that fully meet the wishes of its customers. We are an independent, internationally-focused, family-owned company and produce products for the private label sector and the Bernrain and Stella brands. We supply industrial manufacturers and commercial customers with the finest couverture chocolate and semi-finished products. Genuine Swiss chocolate specialties are our passion.
FRENCH CHOCOLATE
BONNAT CHOCOLATE

For centuries, the Bonnat family has combined their life so completely with the ancient professions of sugar and plants, that their expertise has become a strong, nature culture, where eating good food and eating well are one and the same. The Bonnat family have shared their passion for chocolate since 1884, and generation of parents and children have continued to work together to provide the warmest welcome and the best taste and quality ever since. It´s plain to see that the secret of Bonnat Chocolate run throughout the unique history of this family of creators and artisans.
MICHEL CLUIZEL

For three generations, the Cluizel family has evolved amidst fragrances of chocolate. With the help of skilled Cacaofèviers®, Confectioners and Chocolate Makers, the family carries on with their tradition, where everything started: in Damville, Normandy. The Manufacture Cluizel developed a direct, sustainable relation with cocoa planters. This fair commitment is a pledge of quality.
A genuine, natural taste, this is what the self demanding chocolaterie always strives for.To achieve this, cocoa beans are fermented according to a skilfully controlled technique, at the planter's premises. Then, everything is made at the Manufacture Cluizel: from the slow roasting process that perfectly reveals all the cocoa flavours, to the subtle decorations which are often handmade. This results in a range of tastes from unique soils, emphasized by traditional or innovative recipes: Michel Cluizel's chocolates.
---